Dark chocolate and sweet banana swirl together in this moist, buttery low sugar chocolate marble banana bread.
And what a genuis idea it is! Unsweetened chocolate works perfectly in this recipe since the cake batter is already sweetened with banana. The cake looks impressive when sliced and laid out on a plate to show off the swirly pattern.

Prep Time: 20 minutes
Cook time: 40 minutes
Yield:
1 8-inch x 4-inch loaf
Mildly Sweet Recipe
Ingredients: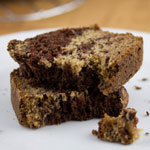 1 1/2 cups whole wheat flour
1 teaspoon baking soda
1/2 teaspoon salt
3 ripe bananas
1/4 cup (1/2 stick) butter, melted and cooled
1 egg
1 teaspoon vanilla extract
4 squares unsweetened chocolate, melted (see Notes below for substitution)
Directions:
Preheat the oven to 350 F. Grease and flour an 8 x 4-inch loaf pan. Set aside.


In a medium bowl, whisk together the flour, baking soda and salt. Set aside.


In a large bowl, mash the bananas. Whisk in the melted butter, egg and vanilla.


Add the dry ingredients to the wet, and stir until blended. Do not overmix.


Pour half of the batter into another bowl and stir in the melted chocolate.


Spoon the batters alternately into the prepared pan. Swirl the batters gently with a knife. Resist the urge to over-swirl or you won't get a separation between the 2 batters.


Bake the cake for 40 - 50 minutes, or until a toothpick inserted into the centre of the loaf comes out clean.


Cool on a wire rack in pan for 20 minutes, then invert onto rack to cool completely.
Notes
If you don't have unsweetened chocolate on hand, mix 4 tablespoons of cocoa powder with 5 tablespoons of warm water and stir to make a smooth paste with the consistency of melted chocolate.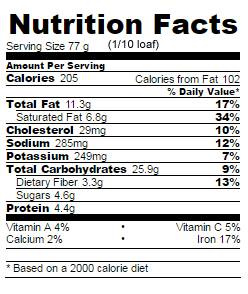 Sweeter Option
For a sweeter loaf, add 1/4 cup of sugar. Whisk the sugar in with the bananas, melted butter, egg and vanilla in step 3.
If you would like to experiment with other sweeteners, see About Sweeteners for more information and nutrition facts on honey, maple syrup, stevia and other sweeteners.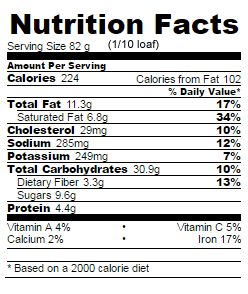 Note:
Most of the recipes on Sweet Smart are adapted from my favourite cookbooks and websites. The Sweeter Option usually calls for about 1/4 to 1/2 of the sugar used in the original recipe.

Adapted from: Chocolate-Marbled Banana Bread from kraftrecipes.com.