These moist, chewy low sugar gluten free chocolate brownies are made with healthy quinoa flour and sweetened with bananas. A guilt-free indulgence!
If you want a pure chocolate experience, leave out the nuts but I added a cup of toasted walnuts to give the the brownies more texture and crunch.

Prep Time: 20 minutes
Cook time: 35 minutes
Yield:
18 small brownies
Mildly Sweet Recipe
Ingredients: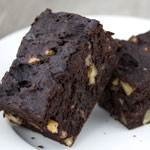 1 1/4 cups quinoa flour
1/4 cup tapioca flour (also called tapioca starch)
1 teaspoon xanthan gum
1 1/4 cups cocoa powder (unsweetened)
1/4 teaspoon baking soda
1/2 teaspoon salt
4 bananas, mashed
2 eggs
1/2 cup (1 stick) butter, melted and cooled
2 teaspoons vanilla extract
1 cup chopped walnuts, toasted
Directions:
Preheat the oven to 350 F. Grease a 9-inch square baking pan. Set aside.


In a large bowl, whisk together the quinoa flour, tapioca flour, xanthan gum, cocoa powder, baking soda and salt.


In a medium bowl, whisk together the mashed bananas, eggs, melted butter and vanilla. Add to the flour mixture and stir to blend. Stir in the nuts. The batter will be quite thick.


Spread the mixture into the prepared pan and bake for 35 minutes. Insert a toothpick into the centre of the pan. Instead of coming out completely clean, the toothpick should have a few moist crumbs attached. This will ensure that the brownies are not overcooked.


Cool for 15 minutes in the pan, then transfer to a wire rack to cool completely. Cut into squares.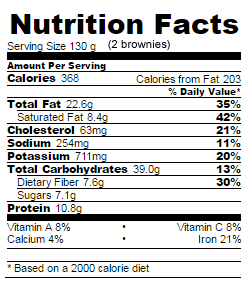 Sweeter Option
For a sweeter brownie, replace one of the bananas in the Mildly Sweet recipe above with 1/4 cup sugar. Whisk the sugar in with the mashed bananas, eggs, melted butter and vanilla in step 3.
If you would like to experiment with other sweeteners, see About Sweeteners for more information and nutrition facts on honey, maple syrup, stevia and other sweeteners.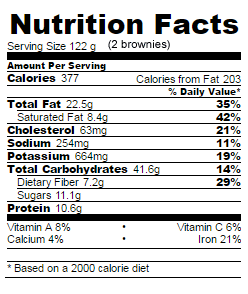 Note:
Most of the recipes on Sweet Smart are adapted from my favourite cookbooks and websites. The Sweeter Option usually calls for about 1/4 to 1/2 of the sugar used in the original recipe.

Adapted from: Chocolate Pumpkin Brownies from The Epicurious Cookbook.