Orange and lemon zest along with cinnamon and allspice provide an authentic flavour in these low sugar hot cross buns.
These smell so great when they are baking, it's hard not to grab one straight out of the oven - which I did! Serve toasted and buttered for breakfast along with a cup of coffee or tea.

Prep Time: 3 hours, 15 minutes (35 minutes active)
Cook time: 12 minutes
Yield:
12 buns
Ingredients: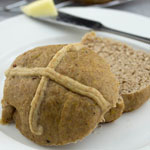 1 cup warm milk (105 - 115 degrees F)
5 teaspoons dry active yeast
1/4 cup plus 1 teaspoon unsweetened applesauce
4 cups whole wheat flour
1 1/2 teaspoons ground allspice
1/2 teaspoon cinnamon
1 teaspoon salt
1 egg
Finely grated zest of one orange
Finely grated zest of one lemon
1 stick unsalted butter, melted
1 teaspoon vanilla extract
Directions:
In a small bowl, stir together the milk, yeast and 1 teaspoon unsweetened applesauce. Let stand 5 minutes, or until foamy.


In a large bowl, whisk together the flour, allspice, cinnamon and salt.


In a medium bowl, whisk together the egg, the remaining 1/4 cup of applesauce, the orange and lemon zests, melted butter and vanilla.


Make a well in the centre of the flour mixture and pour in the yeast and egg mixtures. Stir until a dough forms. Transfer dough to a floured surface and knead until smooth and elastic, about 10 minutes.


Transfer dough to a large oiled bowl, turning dough to coat with oil. Cover the bowl with plastic wrap and let rise in a warm place until doubled in bulk, about 1 1/2 hours.


Butter 2 baking sheets. On a floured surface, knead dough a few times and then form into 2 12-inch long logs. Cut each log into 6 equal slices. Form each slice into a ball and arrange on baking sheets, leaving space around each dough ball.


Cover each baking sheet with a tea towel and let rest in a warm place. Let dough rise until doubled in size, about 45 minutes.


Preheat oven to 400F. Make the glaze and the dough for the crosses.
GLAZE
1 egg
2 tablespoons orange juice
Directions:
Whisk together the egg and orange juice. Brush glaze on top of each bun.
DOUGH FOR CROSSES
60 grams cream cheese, softened
2 tablespoons whole wheat flour
1/4 cup unsweetened applesauce
1 teaspoon vanilla extract
Directions:
With an electric mixer, beat cream cheese until smooth. Add flour, applesauce and vanilla and continue to beat until well blended. Scrape dough into a piping bag or a medium freezer bag with the corner cut off. Pipe crosses onto buns.


Bake buns until golden, about 12 minutes.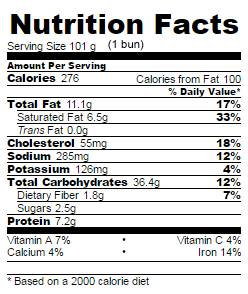 Sweeter Option
For a sweeter bun, replace the 1/4 cup of unsweetened applesauce in the dough ingredients in the Mildly Sweet recipe above with 1/4 cup sugar. Whisk the sugar in with the egg, orange and lemon zests, melted butter and vanilla in step 3. Omit the unsweetened applesauce.



If you would like to experiment with other sweeteners, see About Sweeteners for more information and nutrition facts on honey, maple syrup, stevia and other sweeteners.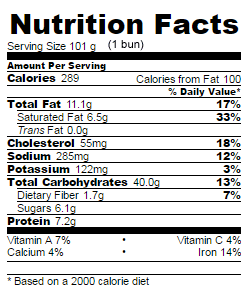 Note:
Most of the recipes on Sweet Smart are adapted from my favourite cookbooks and websites. The Sweeter Option usually calls for about 1/4 to 1/2 of the sugar used in the original recipe.

Adapted from: Hot Cross Buns from epicurious.com.