Chewy oatmeal and sweet apple chunks are baked up into a delicious, cinnamon-spiced low sugar oatmeal apple cookie.
I used a McIntosh apple for these cookies but you can use whatever type of apple you happen to have on hand.

Prep Time: 15 minutes
Cook time: 15 minutes
Yield:
20 cookies
Mildly Sweet Recipe
Ingredients: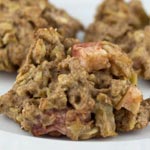 2 cups quick-cooking rolled oats
1 1/2 cups whole wheat flour
1 1/2 teaspoons baking powder
1/2 teaspoon salt
2 teaspoons ground cinnamon
2 eggs
1/2 cup unsweetened applesauce
1/2 cup milk
1/4 cup butter, melted
1 teaspoon vanilla extract
1 1/2 cups finely chopped apple (about 1 large apple)
Directions:
Preheat the oven to 375 F. Grease 2 baking sheets or line with parchment paper.


In a large bowl, whisk together the oats, flour, baking powder, salt and cinnamon.


In a medium bowl, whisk together the eggs, applesauce, milk, butter and vanilla until blended.


Add the wet ingredients to the flour mixture, sprinkle the apple pieces on top, and stir just until blended. Do not overmix.


Drop a tablespoon of batter onto the baking sheet for each cookie, keeping about 2 inches (5 cm) apart. Bake for about 15 minutes.


Let cookies cool on pans for 2 minutes, then transfer cookies to wire rack and cool completely.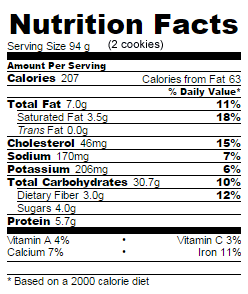 Sweeter Option
For a sweeter cookie, replace the 1/2 cup of unsweetened applesauce in the Mildly Sweet recipe above with 1/4 cup packed brown sugar. Whisk the sugar in with the eggs, milk, butter and vanilla in step 3. Omit the unsweetened applesauce.
If you would like to experiment with other sweeteners, see About Sweeteners for more information and nutrition facts on honey, maple syrup, stevia and other sweeteners.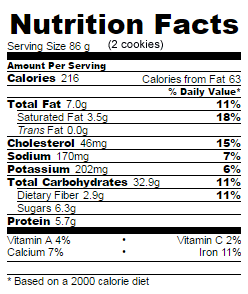 Note:
Most of the recipes on Sweet Smart are adapted from my favourite cookbooks and websites. The Sweeter Option usually calls for about 1/4 to 1/2 of the sugar used in the original recipe.

Adapted from: Yummy Apple Breakfast Cookies from dairygoodness.ca.