The flavours of orange and vanilla combine in this delicious, tender low sugar orange yogurt loaf.
I find that most regular quick breads are much too sweet, and taste more like cake than bread. This is a true orange bread, and rather than tasting just sugar, you can actually taste the orange and vanilla.

Prep Time: 20 minutes
Cook time: 50 minutes
Yield:
1 8-inch loaf
Mildly Sweet Recipe
Ingredients: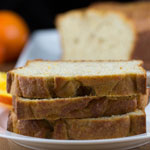 1 1/2 cups whole wheat flour
2 teaspoons baking powder
1/2 teaspoon salt
1 cup plain, unsweetened yogurt
3 eggs
Zest of 2 large oranges (about 2 tablespoons zest)
1/2 cup vegetable oil
1/2 cup unsweetened applesauce
1 teaspoon vanilla extract
Directions:
Preheat the oven to 350 F. Grease a loaf pan and set aside.


In a medium bowl, whisk together the flour, baking powder and salt.


In large bowl, whisk together the yogurt, eggs, orange zest, oil, applesauce and vanilla.


Add the dry ingredients to the wet, whisking until blended.


Pour the batter into the prepared pan and bake for 50 minutes or until a toothpick inserted into the centre of the cake comes out clean.


Let cool in pan for about 20 minutes. Run knife along edges of pan, place a wire rack over the top of the pan and invert to release the cake onto the rack.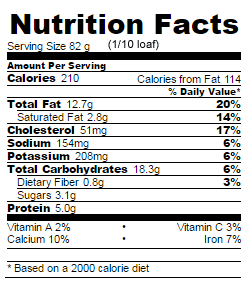 Sweeter Option
For a sweeter orange loaf, replace the 1/2 cup of unsweetened applesauce in the Mildly Sweet recipe above with 1/4 cup sugar. Whisk the sugar in with the yogurt, eggs, orange zest, oil and vanilla in step 3. Omit the unsweetened applesauce.
If you would like to experiment with other sweeteners, see About Sweeteners for more information and nutrition facts on honey, maple syrup, stevia and other sweeteners.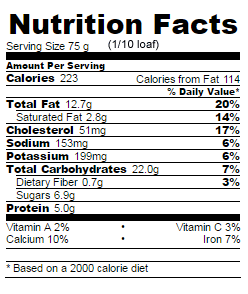 Note:
Most of the recipes on Sweet Smart are adapted from my favourite cookbooks and websites. The Sweeter Option usually calls for about 1/4 to 1/2 of the sugar used in the original recipe.

Adapted from: Yogurt Cake with Marmalade Glaze from epicurious.com.