This rich, dense low sugar apple cream cheese coffee cake is made with apples, cream cheese and cinnamon and tastes like a cross between an apple pie and a cheesecake.
I used Granny Smith apples for this recipe, as per the instructions, but next time I will try a variety of apples to get a mix of sweet, sour, soft and firm chunks in the cake.
Prep Time: 20 minutes
Cook time: 55 minutes
Yield:
1 9-inch round cake
Mildly Sweet Recipe
Ingredients: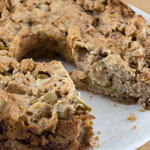 3 firm apples such as Granny Smith, cored and chopped into 1/2 inch pieces (see notes)
2 tablespoons lemon juice
2 teaspoons ground cinnamon
1 3/4 cups whole wheat flour
1 1/2 teaspoons baking powder
1/2 teaspoon salt
1/2 cup (1 stick) unsalted butter, at room temperature
8 oz cream cheese at room temperature
1/3 cup unsweetened applesauce
1 1/2 teaspoons vanilla extract
2 eggs
Directions:
Preheat the oven to 350 F. Grease and flour a tube pan. If you don't have a tube pan, you can use a 9 inch round or square baking pan.


Toss the apples with the lemon juice and cinnamon.


In a medium bowl, whisk together the flour, baking powder and salt.


In large bowl, combine the butter, cream cheese, applesauce and vanilla and beat with an electric mixer until light and fluffy.


Add the eggs one at a time, beating well after each addition.


Add the flour mixture in 3 additions, beating until incorporated.


Use a spatula to gently fold the apples into the batter until evenly distributed. Do not overmix.


Pour the batter into the prepared pan and smooth out the top.


Bake for approximately 55 minutes or until a toothpick comes out clean. Let cool for about 20 minutes. Run knife along edges of pan, place a wire rack over the top of the pan and invert to release the cake onto the rack.
Notes
You may peel the apples if you like. I usually don't since I like to have the extra fiber from the skins.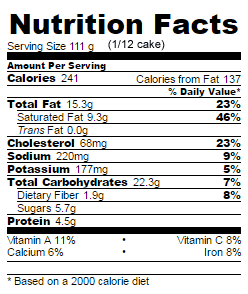 Sweeter Option
For a sweeter apple cake, replace the 1/3 cup of unsweetened applesauce in the Mildly Sweet recipe above with 1/4 cup sugar. Beat the sugar with the butter, cream cheese and vanilla in step 4. Omit the unsweetened applesauce.
If you would like to experiment with other sweeteners, see About Sweeteners for more information and nutrition facts on honey, maple syrup, stevia and other sweeteners.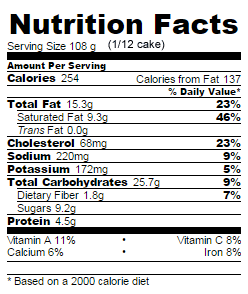 Note:
Most of the recipes on Sweet Smart are adapted from my favourite cookbooks and websites. The Sweeter Option usually calls for about 1/4 to 1/2 of the sugar used in the original recipe.

Adapted from: Spiced Apple Coffee Cake from The Williams-Sonoma Baking Book: Essential Recipes for Today's Home Baker
.