A rich vanilla cake is topped with whipped cream and sprinkled with a crunchy spiced nut mixture in this low sugar spiced nut teacake.
The whipped cream frosting acts as the perfect complementary layer between the moist cake and the crunchy nuts.

The nut topping is made up of almonds and pistachios mixed with allspice, cinnamon and cardamom. You can try a different mix of nuts and spices to suit your taste.

Prep Time: 20 minutes
Cook time: 25 minutes
Yield:
1 8-inch round cake
Mildly Sweet Recipe
Ingredients: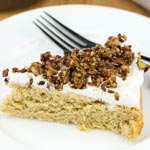 1 cup whole wheat flour
1 1/2 teaspoons baking powder
1/2 teaspoon salt
1/4 cup butter (1/2 stick), softened
1/2 cup unsweetened applesauce
1 egg
1 teaspoon vanilla extract
1/4 cup milk
Directions:
Preheat the oven to 350 F. Grease and flour an 8-inch round cake pan.


In a small bowl, whisk together the flour, baking powder and salt.


In a large bowl, beat the butter with an electric mixer until fluffy. Beat in the applesauce, egg and vanilla. Stir in the flour mixture and milk.


Spread batter into prepared pan.


Bake for 25 minutes until golden on top and a toothpick inserted into the centre of the cake comes out clean. Let cake cool in pan for 5 minutes, then invert cake onto wire rack to cool completely.


Run a knife around the edge of the pan to loosen cake. Turn cake onto rack and then invert onto serving plate right side up.


Make spiced nuts.
SPICED NUTS
3 tablespoons finely chopped pistachios
3 tablespoons finely chopped almonds
1/2 teaspoon ground allspice
1/2 teaspoon ground cardamom
1 teaspoon ground cinnamon
1 tablespoon unsweetened applesauce
Directions:
Stir the nuts and spices together. Mix in the applesauce and stir to coat.


Spread nut mixture onto a small baking sheet and roast for 10 minutes at 350F, turning after 5 minutes for even roasting.
SUGAR FREE VANILLA WHIPPED CREAM FROSTING
1/2 cup whipping cream or heavy cream (35%)
1/2 teaspoon vanilla extract
Directions:
Pour the cream and vanilla into a medium bowl. Using an electric mixer, beat on low until soft peaks form.


Spread whipped cream onto top of cake with a palette knife or back of a spoon. Sprinkle nuts over top of cake. If there is leftover cream, add an extra dollop to each cake slice when serving.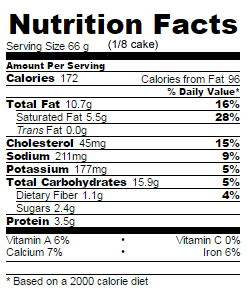 Sweeter Option
For a sweeter cake, replace the 1/2 cup of unsweetened applesauce in the Mildly Sweet recipe above with 1/4 cup sugar, beating the sugar with the butter in step 3. For the spiced nuts, replace the tablespoon of unsweetened applesauce with a teaspoon of icing sugar.



If you would like to experiment with other sweeteners, see About Sweeteners for more information and nutrition facts on honey, maple syrup, stevia and other sweeteners.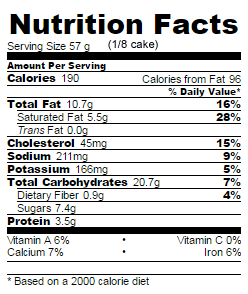 Note:
Most of the recipes on Sweet Smart are adapted from my favourite cookbooks and websites. The Sweeter Option usually calls for about 1/4 to 1/2 of the sugar used in the original recipe.

Adapted from: Spices of the Orient Teacake from Bake (Australian Womens Weekly)