Ground almonds and thick Greek yogurt create a dense, moist base for this low sugar cranberry almond spice bread that's flavoured with cinnamon, ginger and Chinese five spice powder. Tart cranberries and toasted almonds add extra chewiness and crunch.
This beautiful bread would make a festive treat if served for breakfast or afternoon tea on Christmas Day. The cranberry, almond and spice combination reminded me of a Christmas fruitcake, but without the excessively sweet candied fruit.

I've never baked with Chinese five spice powder before, and wasn't sure it would work in this bread, but it smelled so good while it was baking and it mixed beautifully with the cinnamon and ginger to create a subtle, spicy undertone to the bread.
Prep Time: 20 minutes
Cook time: 50 minutes
Yield:
1 bundt cake
Mildly Sweet Recipe
Ingredients: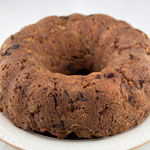 2 cups whole wheat flour
3/4 cup ground almonds (also called almond flour or almond meal
1 teaspoon baking powder
1/2 teaspoon baking soda
1/2 teaspoon salt
1 teaspoon ground cinnamon
1 teaspoon ground ginger
2 1/2 teaspoons Chinese five spice powder
1 cup (2 sticks) unsalted butter at room temperature
1 cup unsweetened applesauce
3 large eggs
1 cup plain Greek-style yogurt (2%)
1 1/2 teaspoons vanilla extract
1 cup chopped almonds, toasted
1 cup halved fresh or frozen cranberries
Directions:
Preheat the oven to 350 F. Grease and flour a 12-cup bundt pan.


In a medium bowl, whisk together the flour, ground almonds, baking powder, baking soda, salt, cinnamon, ginger and Chinese five spice powder.


In large bowl, beat the butter and applesauce together with an electric mixer set on low until combined. Add the eggs one at a time, beating after each addition. Beat in the Greek-style yogurt and vanilla until incorporated.


Add dry ingredients to the wet and beat just until blended.


Add the almonds and cranberries and using a spatula, gently fold into the batter.


Scrape the batter into the prepared pan and smooth out the top.


Bake for approximately 50 minutes or until a toothpick inserted into the cake comes out clean. Let cool for about 10 minutes. Run knife along edges of pan, place a wire rack over the top of the pan and invert to release onto the rack.
Note
I wasn't sure whether to call this a bread or a cake. It's not too sweet, like a bread, yet it looks so beautiful baked in the bundt pan that it elevates it to "cake" status in my mind. I hope you try it and decide for yourself!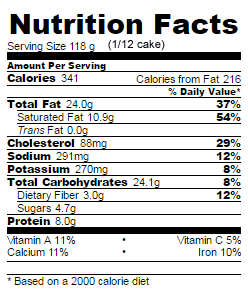 Sweeter Option
For a sweeter cake, replace the cup of unsweetened applesauce in the Mildly Sweet recipe above with 1/2 cup sugar. Beat the butter with the sugar in step 3. Omit the unsweetened applesauce.
If you would like to experiment with other sweeteners, see About Sweeteners for more information and nutrition facts on honey, maple syrup, stevia and other sweeteners.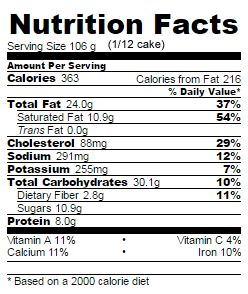 Note:
Most of the recipes on Sweet Smart are adapted from my favourite cookbooks and websites. The Sweeter Option usually calls for about 1/4 to 1/2 of the sugar used in the original recipe.

Adapted from: Spiced Cranberry Bundt Cake from epicurious.com.