Tangy tangerine zest and tart cranberries lend a lot of flavour to these rich, buttery low sugar cranberry tangerine scones.
I love to make these scones during the Thanksgiving or Christmas holidays to have as an afternoon snack with coffee or tea, or for a light breakfast. The cranberries and tangerine go so well together.

Prep Time: 20 minutes
Cook time: 12 minutes
Yield:
8 scones
Mildly Sweet Recipe
Ingredients: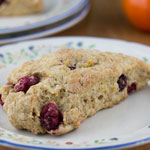 2 cups whole wheat flour
2 tablespoons grated tangerine peel (from 2 tangerines)
1 tablespoon baking powder
1/2 teaspoon salt
1/2 cup (1 stick) chilled unsalted butter, cut into small pieces
1 tablespoon unsweetened applesauce
1/4 cup sour cream
3 tablespoons freshly squeezed tangerine juice
1 large egg
1 cup fresh or frozen cranberries
Directions:
Preheat the oven to 425 F. Line a baking sheet with parchment paper.


Whisk together the flour, peel, baking powder and salt.


Add the butter pieces to the flour mixture and cut in with a pastry blender or rub in with your fingers until it resembles coarse meal.


In another bowl, whisk together the applesauce, sour cream, tangerine juice and egg.


Add liquid to flour mixture and stir with a fork until clumps form. Add cranberries and knead a few times until dough is smooth and cranberries are distributed through the dough.


Turn dough out onto lightly floured surface and pat into an 8 inch round. Cut dough into 8 equal wedges.


Transfer the wedges onto the baking sheet and bake for 12 minutes, until golden brown.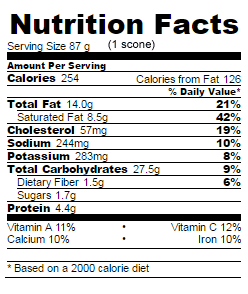 Sweeter Option
For a sweeter scone, replace the 1 tablespoon of unsweetened applesauce in the Mildly Sweet recipe above with 1 tablespoon of sugar. Whisk the sugar in with the sour cream, tangerine juice and eggs in step 4. Omit the unsweetened applesauce.
If you would like to experiment with other sweeteners, see About Sweeteners for more information and nutrition facts on honey, maple syrup, stevia and other sweeteners.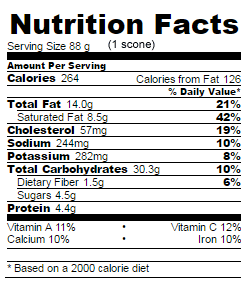 Note:
Most of the recipes on Sweet Smart are adapted from my favourite cookbooks and websites. The Sweeter Option usually calls for about 1/4 to 1/2 of the sugar used in the original recipe.

Adapted from: Cranberry-Tangerine Scones from epicurious.com.