Fresh and flavourful blueberries are mixed with lemon juice and zest and stuffed into rich, buttery pastry in these low sugar blueberry hand pies.
I love to bring these on a camping trip or to the cottage. You get the taste of fruit pie, but they are so much easier to pack and eat. No need for plates or utensils.

Prep Time: 25 minutes
Cook time: 40 minutes
Yield:
6 pies
Mildly Sweet Recipe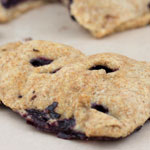 BLUEBERRY HAND PIES
Ingredients:
Pie crust (see recipe below)
1 3/4 cups blueberries
Finely grated zest of one lemon
1 tablespoon fresh lemon juice
1/4 teaspoon salt
Directions:
Preheat the oven to 375 F. Line a baking pan with parchment paper.


Roll out the dough on a floured surface, forming a rectangle approximately 15" wide and 12" high. Cut the rectangle in half vertically, so you have 2 7.5" x 12" pieces. Cut each of those pieces into 3 strips, so you now have 6 strips of dough.


In medium bowl, lightly toss the blueberries with the lemon zest, lemon juice and salt.


Brush the edges of each pastry strip with water. Mound some of the blueberry mixture in the centre of each, and press edges together to close. If the dough cracks while you are doing this, press together to seal.


Place the pastries on the parchment paper and cut a few slits on the top of each pie. Bake the pies for 35 - 40 minutes or until golden on top, and the filling is bubbling out onto the parchment paper.
PIE CRUST
1 1/2 cups whole wheat flour
1/4 teaspoon salt
1/2 cup (1 stick) chilled unsalted butter, cut into 1/2 inch pieces
1/4 cup ice water (or more)
Directions:
Whisk together the flour and salt.


Using a pastry cutter, cut in the butter until it resembles coarse meal. Add the ice water and mix until it comes together. Add more water by the tablespoonful if mixture is too dry.


Form the dough into a rectangle, wrap in plastic and chill until firm, about 2 hours.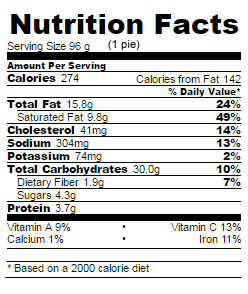 Sweeter Option
For a sweeter pie, add 2 tablespoons of sugar to the blueberries, lemon zest and lemon juice in step 3.



If you would like to experiment with other sweeteners, see About Sweeteners for more information and nutrition facts on honey, maple syrup, stevia and other sweeteners.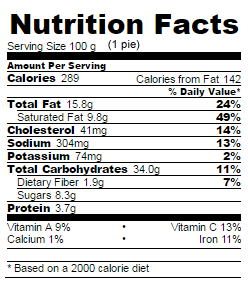 Note:
Most of the recipes on Sweet Smart are adapted from my favourite cookbooks and websites. The Sweeter Option usually calls for about 1/4 to 1/2 of the sugar used in the original recipe.

Adapted from: Blueberry Hand Pies from Bon Appetit magazine, July 2013.