The cinnamon spiced pecans provide a crunchy contrast to the smooth sweet potato filling in this low sugar sweet potato pie.
Sweet potato pie is not a Canadian Thanksgiving tradition, at least not that I know of. But it is one of the staples of the American Thanksgiving feast and I've been meaning to try it for years.

I found this recipe for a marshmallow-free sweet potato pie in my beloved Williams-Sonoma Baking book and I loved the results! The sweet potato custard is made up of just a few simple ingredients, but it's absolutely delicious.

I will make this as part of next year's Canadian Thanksgiving dinner, and maybe start a new tradition up here!

Prep Time: 20 minutes
Cook time: 45 minutes
Yield:
1 9-inch pie
Mildly Sweet Recipe
Ingredients: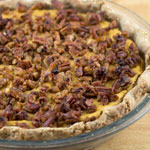 1/2 recipe of whole wheat pie crust
2-3 sweet potatoes, cooked, peeled and mashed (about 1 1/2 cups mashed)
2 large eggs
1 1/4 cups heavy cream
1/2 teaspoon salt
1 teaspoon ground ginger
1/4 teaspoon ground allspice
1 1/4 teaspoons ground cinnamon, divided
1/2 cup chopped pecans
2 teaspoons unsweetened applesauce
Directions:
Roll out the dough and place it in the pie pan. Fold the excess dough under itself and flute the edges of the pie crust.


Refrigerate or freeze until firm, about 30 minutes.


Preheat the oven to 375 F. Line the pie crust with foil and fill with dried, uncooked rice, beans or pie weights to keep the crust from puffing up as it cooks.


Bake the pie crust for 20 minutes, then remove from the oven and check to see if it's done. Lift a corner of the foil and if the top looks wet, return to the oven for 5 more minutes or until the top looks dry. Once the pie shell is done, remove from oven and reduce the temperature to 350 F.


In a large bowl, whisk together the sweet potatoes, eggs, cream, salt, ginger, allspice and 1 teaspoon of the ground cinnamon.


To make the spiced pecans, mix together the remaining 1/4 teaspoon of ground cinnamon, the chopped pecans and applesauce in a small bowl. If you like a sweet/salty taste, use salted pecans or add a pinch of salt to the pecan mixture. Set aside.


Pour the sweet potato mixture into the pre-baked pie crust. Bake for 20 minutes.


Remove the pie from the oven and sprinkle the pecans evenly over the top of the pie. Return the pie to the oven and bake for another 20 - 25 minutes, until the filling is firm. Once pie is done, let cool on wire rack.
Notes
I used leftover baked sweet potato for this pie, but you can also use boiled sweet potatoes.
Peel and cut 2 sweet potatoes into chunks and cook in a saucepan of boiling water for 20 minutes, or until tender. Drain sweet potatoes, mash and cool to room temperature.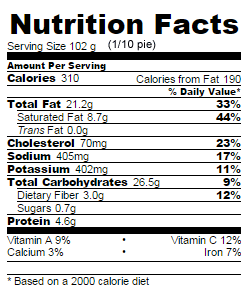 Sweeter Option
For a sweeter pie, add 1/4 cup brown sugar. Whisk the brown sugar in with the sweet potatoes, eggs, cream, salt, ginger, allspice and cinnamon in step 5.
If you would like to experiment with other sweeteners, see About Sweeteners for more information and nutrition facts on honey, maple syrup, stevia and other sweeteners.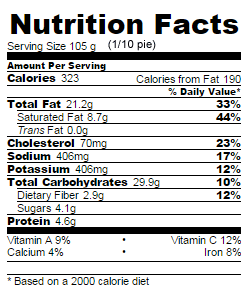 Note:
Most of the recipes on Sweet Smart are adapted from my favourite cookbooks and websites. The Sweeter Option usually calls for about 1/4 to 1/2 of the sugar used in the original recipe.

Adapted from: Sweet Potato Pie with Spiced Pecans from The Williams-Sonoma Baking Book: Essential Recipes for Today's Home Baker
.