The combination of butter and shortening help to create a flaky crust with good flavour in this sugar free whole wheat pie crust.
Prep Time: 20 minutes
Yield:
2 pie crusts
Ingredients: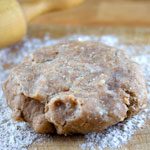 2 1/4 cups whole wheat flour
1/4 cup cornstarch
1 teaspoon salt
1/2 cup (1 stick) cold unsalted butter, cut into 1/2 inch pieces
1/2 cup cold, solid vegetable shortening, cut into 1/2 inch pieces
4 - 5 tablespoons ice water
1 1/2 teaspoons apple cider vinegar or regular vinegar
Directions:
Whisk together the flour, cornstarch and salt.



Add the butter and shortening to the flour mixture and cut in using a pastry cutter or 2 knives until the mixture resembles coarse meal.


Add vinegar and 4 tablespoons of ice water to the mixture and mix with a fork until dough starts to clump together. Add more water by the teaspoonful if the mixture is dry.


Gather the dough together and divide into 2 balls. Flatten each ball into a disc and wrap in plastic wrap. Refrigerate the dough for at least 1 hour before using.


If you are making a double crust pie, it helps to make one of the dough discs a little larger and use it for the bottom crust.
Rolling out the dough
Roll out the bottom crust on a lightly floured work surface. Use a spatula to loosen the dough and fold it in half. Gently lift the folded dough and lay it over top of the pie pan and unfold.


Trim away any excess dough and use it to fill in any gaps on the sides of the pie crust.

Adapted from:
Best-Ever Pie Crust
from
epicurious.com
.