The flaky crust provides a crunchy contrast to the silky, creamy, custard in this low sugar pumpkin pie that is mildly sweet and a bit spicy.
This pie is great for Thanksgiving or Christmas dessert, but sometimes I can't wait and bake one up as soon as it starts to feel like fall.

This pie is made from a recipe that I found in the newspaper many years ago that was taken from Classic Home Desserts by Richard Sax.

The heavy cream and spices bake up into a rich, creamy, spicy custard. I look forward to this pie every year!

Prep Time: 20 minutes
Cook time: 40 minutes
Yield:
1 9-inch pie
Mildly Sweet Recipe
Ingredients: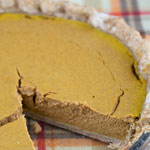 1/2 recipe pie dough
1 1/2 cups pumpkin puree (unsweetened)
1/2 cup unsweetened applesauce
1 tablespoon whole wheat flour
1/2 teaspoon salt
1 1/2 teaspoons ground cinnamon
1/2 teaspoon ground nutmeg
1/2 teaspoon ground ginger
1/4 teaspoon ground allspice
Pinch freshly ground pepper
1 cup whipping cream
1/3 cup milk
2 large eggs
1 1/2 teaspoons vanilla extract
Directions:
Preheat the oven to 425 F. Line a pie plate with the pastry.


In a large bowl, whisk together the pumpkin, applesauce, flour, salt, cinnamon, nutmeg, ginger, allspice, pepper, whipping cream, milk, eggs and vanilla.


Pour into pie shell.


Bake at 425 F for 15 minutes, then lower the oven temperature to 350 F for 25 minutes more, or until filling is set, but still a bit wobbly in the centre.


Cool pie on rack. Serve with whipped cream if desired.
Notes
If you like a spicier pie, mix all of the filling ingredients together except the eggs, taste the filling and add more spices if desired, then mix in eggs.
Last year I tried using coconut milk in place of the heavy cream and milk, and it turned out great, in case you want to try a pie with less dairy. The coconut milk I used was from T & T grocery, and I think it worked well because it's thicker than other brands.
I have read that if you want to prevent the top of the pie from cracking, do not overbake the pie, remove from the oven before the centre is set, while it's still a bit wobbly. This technique did not work for me, but I will keep experimenting!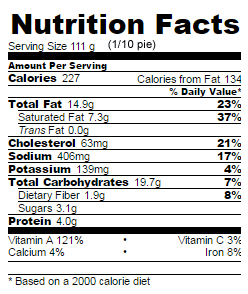 Sweeter Option
For a sweeter pie, replace the 1/2 cup of unsweetened applesauce in the Mildly Sweet recipe above with 1/4 cup brown sugar. Whisk the brown sugar in with the pumpkin, flour, salt, cinnamon, nutmeg, ginger, allspice, pepper, whipping cream, milk, eggs and vanilla in step 2. Omit the unsweetened applesauce.
If you would like to experiment with other sweeteners, see About Sweeteners for more information and nutrition facts on honey, maple syrup, stevia and other sweeteners.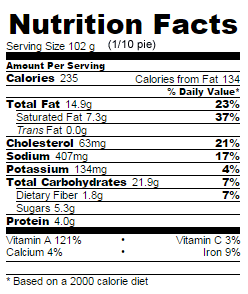 Note:
Most of the recipes on Sweet Smart are adapted from my favourite cookbooks and websites. The Sweeter Option usually calls for about 1/4 to 1/2 of the sugar used in the original recipe.

Adapted from: Best Ever Pumpkin Pie from Classic Home Desserts: A Treasury of Heirloom and Contemporary Recipes.