Enjoy a healthy take on a favourite classic treat - sugar free gluten free lemon poppy seed muffins.
The poppy seeds provide a slight crunch which is a satisfying contrast in these lemony, light and moist muffins.

Prep Time: 20 minutes
Cook time: 25 minutes
Yield:
12 muffins
Ingredients: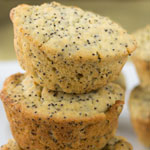 1 cup brown rice flour
3/4 cup quinoa flour
1/4 cup tapioca flour (also called tapioca starch)
1 1/2 teaspoons baking powder
1/4 teaspoon baking soda
1/2 teaspoon salt
2 tablespoons poppy seeds
1/2 cup plain, unsweetened yogurt
1 cup unsweetened applesauce
2 eggs
1/3 cup vegetable oil
Finely grated zest of 2 lemons
1/4 cup lemon juice
Directions:
Preheat the oven to 350 F. Grease a muffin pan or line with paper liners.

In a large bowl, whisk together the brown rice flour, quinoa flour, tapioca starch, baking powder, baking soda, salt and poppy seeds.

In medium bowl, whisk together the yogurt, applesauce, eggs, oil, lemon zest and lemon juice until all ingredients are blended.

Add the wet ingredients to the flour mixture and stir until evenly moistened.

Pour the batter into the muffin cups and bake for 25 minutes or until a toothpick inserted into the centre of a muffin comes out clean.

Let cool for about 5 minutes in the pan then transfer to wire rack.


Adapted from:
Lemon Poppy Seed Muffins
from
About.com American Food
.