These tender, mildly spicy low sugar pumpkin scones are delicious for breakfast. Enjoy with butter and a cup of coffee or tea.
I, like many others, was looking to bake up my own home version of Starbuck's pumpkin scones - without the thick layer of icing of course. I came across many recipes on the internet that were all pretty much the same, and this is the one I went with. You can increase the spices if you like a spicier scone, but either way these will taste great.
Prep Time: 20 minutes
Cook time: 15 minutes
Yield:
6 scones
Mildly Sweet Recipe
Ingredients: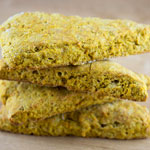 2 cups whole wheat flour
1 tablespoon baking powder
1/2 teaspoon salt
1/2 teaspoon ground cinnamon
1/4 teaspoon ground nutmeg
1/2 teaspoon ground ginger
6 tablespoons cold unsalted butter, cut into small cubes
1/2 cup pumpkin puree (unsweetened)
1/4 cup unsweetened applesauce
1 large egg
3 tablespoons half and half cream (10% cream)
1 teaspoon vanilla extract
Directions:
Preheat the oven to 425 F. Line a baking sheet with parchment paper or a Silpat.


In a large bowl, whisk together the flour, baking powder, salt, cinnamon, nutmeg, and ginger.


Add in the cold butter and using a pastry cutter or 2 knives, cut the butter into the flour mixture until the butter is evenly distributed and no large lumps remain.


Whisk together the pumpkin, applesauce, egg, half and half cream and vanilla.


Stir the pumpkin mixture into the flour and mix until soft dough begins to form.


Gather dough into a ball. On a lightly floured work surface, pat dough into a rectangle about 9 inches by 3 inches, about 1 inch thick.


Cut the dough into 3 equal squares. Cut through the three squares diagonally so that you have 6 triangular slices of dough.


Place the dough pieces on the baking pan about an inch apart and bake for about 15 minutes, until golden brown.


Place scones on a wire rack to cool.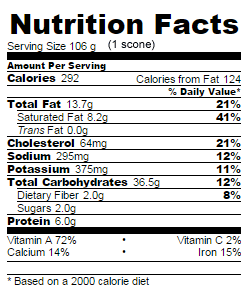 Sweeter Option
For a sweeter scone, replace the 1/4 cup of unsweetened applesauce in the Mildly Sweet recipe above with 2 tablespoons of sugar. Whisk the sugar in with the pumpkin, egg, half and half cream and vanilla in step 4. Omit the unsweetened applesauce.
If you would like to experiment with other sweeteners, see About Sweeteners for more information and nutrition facts on honey, maple syrup, stevia and other sweeteners.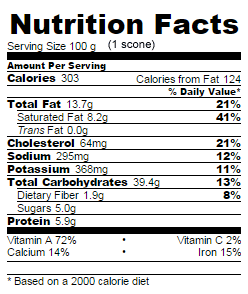 Note:
Most of the recipes on Sweet Smart are adapted from my favourite cookbooks and websites. The Sweeter Option usually calls for about 1/4 to 1/2 of the sugar used in the original recipe.

Adapted from: Pumpkin Scones from Starbuck's Coffee at Home.