The moistness of the sweet potato and the zesty orange give these low sugar sweet potato muffins a burst of flavour.
I love baking with vegetables, so I was really anxious to try these out. I thought they were great! The orange zest gives them a lot of flavour but if you are not a fan of orange, you may want to omit since it's quite strong.
Prep Time: 20 minutes
Cook time: 22 minutes
Yield:
12 muffins
Mildly Sweet Recipe
Ingredients: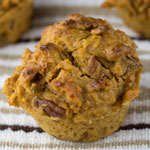 1 3/4 cups whole wheat flour
2 teaspoons baking powder
1 teaspoon ground cinnamon
1/2 teaspoon ground nutmeg
1/2 teaspoon salt
2 sweet potatoes, cooked, peeled and mashed (about 1 1/4 cups mashed)
2 eggs
1/2 cup unsweetened applesauce
1/2 cup canola oil
1/2 cup milk
grated zest of 1 orange
3/4 cup chopped pecans
Directions:
Preheat the oven to 400 F. Grease a muffin pan or line with paper liners.


In a bowl, whisk together the flour, baking powder, cinnamon, nutmeg and salt.


In another bowl, whisk together the mashed sweet poatoes, eggs, applesauce, oil, milk and orange zest.


Add the flour mixture and stir to moisten.


Fold in the chopped pecans, do not overmix.


Pour the batter into the muffin cups and bake for 20 - 25 minutes or until a toothpick inserted into the centre of a muffin comes out clean.


Let cool for about 5 minutes in the pan then transfer to wire rack.
Notes
I used leftover baked sweet potato for these muffins, but you can also use boiled sweet potatoes. Peel and cut 2 sweet potatoes into chunks and cook in a saucepan of boiling water for 20 minutes, until tender. Drain sweet potatoes, mash and cool to room temperature.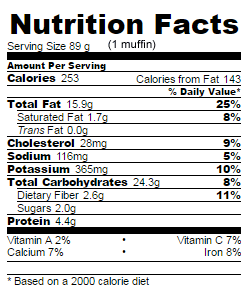 Sweeter Option
For a sweeter muffin, replace the 1/2 cup of unsweetened applesauce in the Mildly Sweet recipe above with 1/4 cup sugar. Whisk the sugar in with the sweet potatoes, eggs, oil, milk and orange zest in step 3. Omit the unsweetened applesauce.
If you would like to experiment with other sweeteners, see About Sweeteners for more information and nutrition facts on honey, maple syrup, stevia and other sweeteners.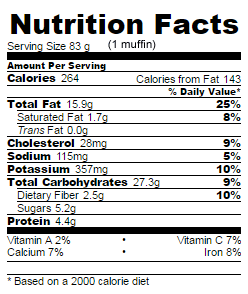 Note:
Most of the recipes on Sweet Smart are adapted from my favourite cookbooks and websites. The Sweeter Option usually calls for about 1/4 to 1/2 of the sugar used in the original recipe.

Adapted from: Cinnamon-Crunch Sweet Potato Muffins from The Williams-Sonoma Baking Book: Essential Recipes for Today's Home Baker
.