The cinnamon top mixes nicely with the sweet pears and the vanilla in this low sugar vanilla pear cake.


I love to find a way to use fruit that's in season, and my mission this week was to find something delicious that I could bake with pears.

I found a recipe on epicurious.com for Country Pear Cake, and thought that this would make a great base for my pear concoction.

As usual, I substituted whole wheat flour for the white, and I used canola oil rather than olive oil because I wanted to keep the cake light tasting. I added some vanilla, unsweetened applesauce and a bit of cinnamon to the recipe and I loved the results.

Prep Time: 20 minutes
Cook time: 40 minutes
Yield: 1 8-inch round cake


Mildly Sweet Recipe
Ingredients
1 1/2 cups whole wheat flour
2 teaspoons baking powder
1/2 teaspoon salt
2 eggs
1/3 cup canola oil
1/4 cup milk
1/2 cup unsweetened applesauce
1 teaspoon vanilla extract
3 pears, cored and cut into 1/2 inch cubes
1 teaspoon ground cinnamon for sprinkling on top


Directions
Preheat the oven to 375 F. Grease and flour an 8-inch round cake pan.


In a small bowl, whisk together the flour, baking powder and salt.


In a large bowl, whisk together the eggs, canola oil, milk, applesauce and vanilla. Add flour mixture to wet ingredients and mix until blended.


Gently stir in pears, do not overmix.


Scrape batter into prepared pan. Sprinkle top with cinnamon.


Bake for 40 minutes until brown on top and a toothpick inserted into the centre of the cake comes out clean. Place the pan on a wire rack to cool for 30 minutes.


Run a knife around the edge of the pan to loosen cake. Turn cake onto rack and then invert onto serving plate right side up.

Note
It may seem like there are too many pears to mix into the batter, but don't worry, all of those pears will make the cake sweet and juicy.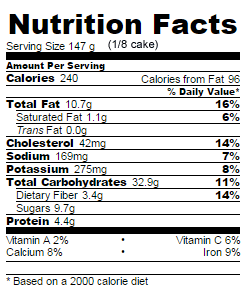 Sweeter Option
For a sweeter cake, replace the 1/2 cup of unsweetened applesauce in the Mildly Sweet recipe above with 1/4 cup sugar. Whisk the sugar in with the eggs, oil, milk and vanilla in step 3. Omit the unsweetened applesauce.

If you would like to experiment with other sweeteners, see About Sweeteners for more information and nutrition facts on honey, maple syrup, stevia and other sweeteners.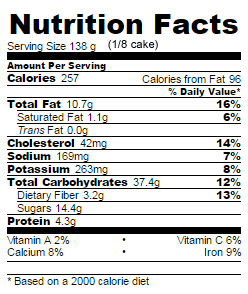 Note:
Most of the recipes on Sweet Smart are adapted from my favourite cookbooks and websites. The Sweeter Option usually calls for about 1/4 to 1/2 of the sugar used in the original recipe.

Adapted from: Country Pear Cake from epicurious.com.