Celebrate spring or Easter with these low sugar lemon buttermilk cupcakes. Super moist, lemony cakes are topped with fluffy vanilla whipped cream and lemon zest.
Use a tablespoon to drop a dollop of whipped cream onto each cupcake, or use a piping bag and decorative tip to create a more formal look.

If you don't have a piping bag, you can use a medium sized freezer bag. Fill the freezer bag with the whipped cream, cut a hole in the bottom corner of the bag, and pipe the cream through the opening.
Prep Time: 20 minutes
Cook time: 18 minutes
Yield:
12 cupcakes
Mildly Sweet Recipe
CUPCAKES
Ingredients: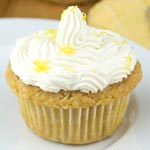 2 cups whole wheat flour
1 1/2 teaspoons baking powder
1/2 teaspoon baking soda
1/4 teaspoon salt
1/2 cup (1 stick) unsalted butter, softened
1 cup unsweetened applesauce
2 large eggs
1 1/2 teaspoons finely grated lemon rind
1 teaspoon vanilla extract
1/4 cup lemon juice
1 cup buttermilk
Directions:
Preheat the oven to 350 F. Line 12 muffin cups with paper liners, or grease muffin pan.


In a medium bowl, whisk together the flour, baking powder, baking soda and salt.


In a large bowl using an electric mixer, beat the butter until fluffy. Beat in the applesauce, eggs, lemon rind, vanilla and lemon juice.


Stir the flour mixture into the butter mixture alternately with the buttermilk, making 3 additions of dry ingredients and 2 of the buttermilk.


Spoon the batter into the muffin cups, filling about 2/3 full. Bake the cupcakes until golden and a toothpick inserted into the centre of a cupcake comes out clean, about 18 minutes. Let cool completely on wire rack.


Frost cupcakes with Low Sugar vanilla whipped cream frosting.
SUGAR FREE VANILLA WHIPPED CREAM FROSTING
1 cup whipping cream or heavy cream (35%)
1 teaspoon vanilla extract
Directions:
Pour the cream and vanilla into a medium bowl. Using an electric mixer, beat on low until soft peaks form.


Spread onto cupcakes with a palette knife or using a tablespoon, drop a dollop of whipped cream onto the top of each cupcake.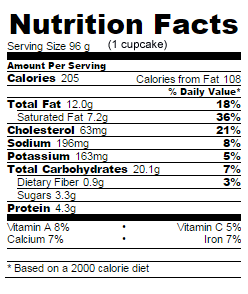 Sweeter Option
For sweeter cupcakes, replace the 1 cup of unsweetened applesauce in the Mildly Sweet recipe above with 1/2 cup sugar. Beat the sugar with the butter in step 3 and omit the unsweetened applesauce. You may also want to beat a tablespoon of icing sugar into the whipped cream frosting. (Sugar added to the frosting recipe is not counted in nutrition facts below.)



If you would like to experiment with other sweeteners, see About Sweeteners for more information and nutrition facts on honey, maple syrup, stevia and other sweeteners.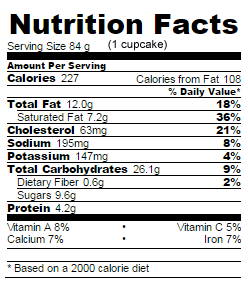 Note:
Most of the recipes on Sweet Smart are adapted from my favourite cookbooks and websites. The Sweeter Option usually calls for about 1/4 to 1/2 of the sugar used in the original recipe.

Adapted from: Lemon Buttermilk Cupcakes from www.canadianliving.com.