The pumpkin and applesauce make this low sugar pumpkin nut bread very moist and the walnuts add a nice crunch. It tastes great on its own or with butter.
This is a great pumpkin bread for those who prefer a true pumpkin "bread" rather than a sweet cakey pumpkin loaf. The taste of the pumpkin and spices shine through when not overpowered by sugar.
Prep Time: 15 minutes
Cook time: 1 hour
Yield:
1 8-inch loaf
Mildly Sweet Recipe
Ingredients: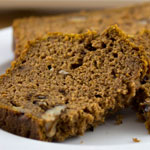 1 3/4 cups whole wheat flour
1 teaspoon baking soda
1/2 teaspoon baking powder
2 teaspoons ground cinnamon
1/2 teaspoon ground nutmeg
1/2 teaspoon ground allspice
1/2 teaspoon ground cloves
1/2 teaspoon salt
1 cup pumpkin puree (unsweetened)
1/2 cup unsweetened applesauce
2 large eggs
1/3 cup milk
1/4 cup (1/2 stick) unsalted butter, melted and cooled
1/4 cup vegetable oil
1 1/2 teaspoons vanilla
1 cup chopped walnuts
1/4 cup pumpkin seeds, for sprinkling on top
Directions:
Preheat the oven to 350 F. Grease and flour a 8-inch loaf pan.


In a medium bowl, whisk together the flour, baking soda, baking powder, cinnamon, nutmeg, allspice, cloves and salt. Set aside.


In large bowl, whisk together the pumpkin, applesauce, eggs, milk, melted butter, oil and vanilla.


Add the flour mixture to the wet ingredients and mix just until combined. Stir in walnuts.


Pour the batter into the prepared pan and smooth out the top.


Sprinkle the pumpkin seeds over the top of the loaf and press gently into the batter.


Bake for approximately 1 hour or until a toothpick inserted into the centre of the loaf comes out clean.


Let cool for 15 minutes then invert onto wire rack to cool completely.
Notes
It's best to store this loaf in the refrigerator to keep it from getting mouldy. I usually keep a few slices out in a plastic container at room temperature but refrigerate the rest to keep it fresh.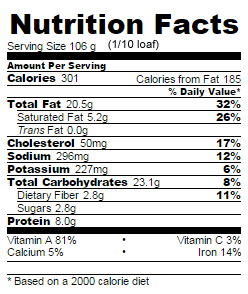 Sweeter Option
For a sweeter pumpkin loaf, replace the 1/2 cup of unsweetened applesauce in the Mildly Sweet recipe above with 1/4 cup sugar. Whisk the sugar in with the pumpkin, eggs, milk, melted butter, oil and vanilla in step 3. Omit the unsweetened applesauce.
If you would like to experiment with other sweeteners, see About Sweeteners for more information and nutrition facts on honey, maple syrup, stevia and other sweeteners.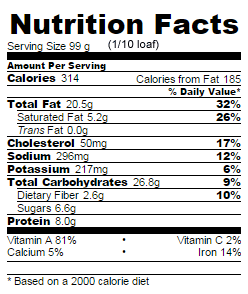 Note:
Most of the recipes on Sweet Smart are adapted from my favourite cookbooks and websites. The Sweeter Option usually calls for about 1/4 to 1/2 of the sugar used in the original recipe.

Adapted from: Pumpkin Bread recipe from Bobby Flay's Bar Americain Cookbook: Celebrate America's Great Flavors.