This sugar free gluten free blueberry bread is made with healthy brown rice and quinoa flour, and sweetened with applesauce and blueberries.
You can sweeten this bread with either one cup of mashed bananas or one cup of unsweetened applesauce. If you like a sweeter bread, use bananas. I tried both and I thought they both tasted great.

Prep Time: 20 minutes
Cook time: 60 minutes
Yield:
1 8-inch loaf
Ingredients: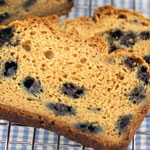 1 cup brown rice flour
1/2 cup quinoa flour
1/2 cup tapioca flour (also called tapioca starch)
1 teaspoon xanthan gum
1 1/2 teaspoons baking soda
1/2 teaspoon salt
1/2 teaspoon ground cinnamon
1 cup unsweetened applesauce OR 1 cup mashed bananas (about 3 bananas)
2 eggs
1/2 cup plain, unsweetened yogurt
1/3 cup vegetable oil
2 teaspoons vanilla extract
1 cup fresh or frozen blueberries
Directions:
Preheat the oven to 350 F. Grease an 8-inch loaf pan.

In a large bowl, whisk together the brown rice flour, quinoa flour, tapioca flour, xanthan gum, baking soda, salt and cinnamon.

In medium bowl, whisk together the applesauce (or bananas), eggs, yogurt, oil, and vanilla until all ingredients are blended.

Add the wet ingredients to the flour mixture and stir until evenly moistened. Gently fold in the blueberries being careful not to break them up too much.

Pour the batter into the prepared pan and bake for 55 - 60 minutes or until a toothpick inserted into the centre of the loaf comes out clean.

Let cool for about 5 minutes in the pan then transfer to wire rack.


Adapted from:
Sour Cream Blueberry Bread
from
williams-sonoma.com
.