Granny Smith apples, cinnamon and nutmeg are baked in a buttery whole wheat crust in this low sugar apple pie.
When making an apple pie, it's best to choose mostly firm apples such as Granny Smith - it'll help prevent the apples from becoming too mushy when the pie bakes.

If you like, though, you can substitute one of the Granny Smith apples for a softer apple such as a McIntosh. When the McIntosh apple bakes, it will lose its shape and become like applesauce which will prevent the pie filling from being too dry.

Using firm apples also seems to help prevent the large empty gap that can sometimes form underneath the top crust.

You can roll out a simple dough round and cut vents into it for the top crust, or you can weave a lattice top for a fancier looking pie.

Prep Time: 25 minutes
Cook time: 1 hour, 5 minutes
Yield:
1 9-inch double crust pie
Mildly Sweet Recipe
Ingredients: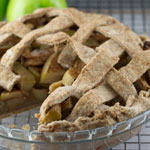 1 recipe pie dough for double crust pie
6 large, firm apples such as Granny Smith
Juice and zest of one small lemon
1 1/2 teaspoons ground cinnamon
1/4 teaspoon ground nutmeg
1/8 teaspoon salt
1 tablespoon cornstarch
Directions:
Preheat the oven to 425 F.


Roll out half of the pie dough into a 10 inch round. Line the bottom of a pie pan with the pastry. Set aside.


Cut the apples into quarters, remove the core, and then cut the quarters into 1/2 inch slices. You should have approximately 8 cups of apple slices.


Place apple slices in a large bowl and toss with the lemon juice and zest.


In a small bowl, whisk together the cinnamon, nutmeg, salt and cornstarch.


Add spice mixture to the apples and toss to coat.


Pour the apples into the pie pan and press into a mound in the centre of the pan.


Roll out the other dough half and place it over the top of the pie. Fold the bottom crust over the top crust and press together with your fingers or a fork. Cut about 5 or 6 slits into the top of the pie to allow it to vent.


Bake for 20 minutes at 425 F, then reduce the heat to 350 F and bake for another 45 minutes, or until top is golden brown and filling is bubbling.
Note
I have found that the best way to tell if the fruit in your pie is cooked enough is to leave it in the oven until the filling bubbles up. If it's not bubbling, the apples may still be a bit hard.
Sweeter Option
The mildly sweet version of this recipe already has over 14 grams of sugar per serving, so in this case I am not going to suggest a sweeter option, since it then can no longer be called a "low sugar" apple pie! Of course though, you can feel free to experiment with additional sweeteners if you like.
See About Sweeteners for more information and nutrition facts on honey, maple syrup, stevia and other sweeteners.
Note:
Most of the recipes on Sweet Smart are adapted from my favourite cookbooks and websites. The Sweeter Option usually calls for about 1/4 to 1/2 of the sugar used in the original recipe.

Adapted from: Low Sugar Apple Pie from The Little Pie Company of the Big Apple: Pies and Other Dessert Favorites.