Tart, juicy raspberries and a touch of cinnamon are baked in a buttery whole wheat crust in this low sugar raspberry pie.
When I'm not baking low sugar desserts, I'm running my web development company,
Cranberryink
. Lately, Cranberryink has been buzzing with creative energy as a couple of guest programmers have dropped in to work on a special project involving a Raspberry Pi.
With raspberry pi on the brain for the last few weeks, I just had to try a low sugar version of the edible variety of raspberry pie.
I used frozen berries since fresh are very expensive at this time of year.
You can roll out a simple dough round and cut vents into it for the top crust like I did, or you can weave a lattice top for a fancier looking pie.
Prep Time: 25 minutes
Cook time: 45 minutes
Yield:
1 9-inch double crust pie
Mildly Sweet Recipe
Ingredients: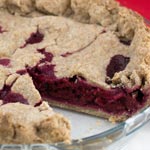 1 recipe pie dough for double crust pie
1/4 cup tapioca flour
1/4 teaspoon ground cinnamon
1/8 teaspoon salt
1/3 cup unsweetened applesauce
4 cups raspberries, fresh or frozen. If using frozen, do not thaw.
Directions:
Preheat the oven to 425 F.


Roll out half of the pie dough into a 10 inch round. Line the bottom of a pie pan with the pastry. Set aside.


In a large bowl, whisk together the tapioca flour, cinnamon and salt until blended.


Add the raspberries and applesauce and toss gently.


Pour the raspberry mixture into the pie pan and distribute evenly in the pan.


Roll out the other dough half and place it over the top of the pie. Fold the bottom crust over the top crust and press together with your fingers or a fork. Cut about 5 or 6 slits into the top of the pie to allow it to vent.


Bake for 15 minutes at 425 F, then reduce the heat to 375 F and bake for another 30 minutes, or until top is golden brown and filling is bubbling.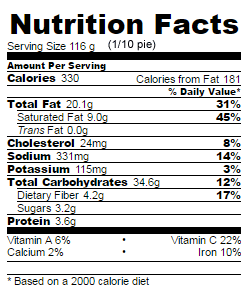 Sweeter Option
For a sweeter raspberry pie, replace the 1/3 cup of unsweetened applesauce in the Mildly Sweet recipe above with 1/4 cup sugar. Whisk the sugar in with the tapioca flour, cinnamon and salt in step 3. Add the raspberries to this mixture and omit the unsweetened applesauce.
If you would like to experiment with other sweeteners, see About Sweeteners for more information and nutrition facts on honey, maple syrup, stevia and other sweeteners.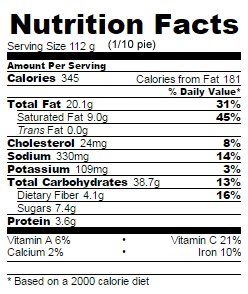 Note:
Most of the recipes on Sweet Smart are adapted from my favourite cookbooks and websites. The Sweeter Option usually calls for about 1/4 to 1/2 of the sugar used in the original recipe.

Adapted from: Peach Raspberry Pie from The Little Pie Company of the Big Apple: Pies and Other Dessert Favorites.